James J. Grady, CPA
Phone: 708.822.9752 Email: JGrady@malekremian.com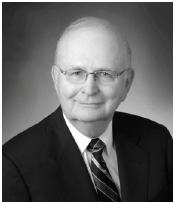 James J. Grady has over 40 years experience in the financial services industry, including as lead audit partner and reviewing audit partner. Prior to joining MalekRemian, Mr. Grady was a Practice Leader of Ernst & Young's Midwest Region financial services and real estate industry practice in Chicago, where he developed the Firm's audit approach for financial institutions. He was the engagement partner or review partner on audits of financial institutions, brokerage firms, mutual funds, common trust funds, finance companies and mortgage companies.
He is recognized as an expert in generally accepted auditing standards, generally accepted accounting principles and the filing requirements of the Securities and Exchange Commission. As an independent contractor, he has provided technical assistance to Ernst & Young International on audits of central banks and commercial banks in Central Asia and commercial banks in Eastern Europe.
Mr. Grady was the lead partner in services to the mortgage banking industry, as well as review partner on many structured finance transactions including RMBS, CDO, CMO and similar instruments. He was responsible for interaction with and management of SEC review process, auditor due diligence, tracking of underlying mortgage portfolio performance and related waterfall analysis. He has been extensively involved in evaluating the appropriate accounting for many complex financing transactions. As a result of this experience, he developed analytical tools to evaluate the recorded amounts of residual interests and developed similar analytical programs to evaluate servicing assets. He has been a frequent speaker at banking and mortgage banking conferences.
He was also the lead partner on the reorganization of one of the largest troubled real estate investment trusts in the country.
Mr. Grady has provided expert testimony in defense of a major accounting firm in FDIC litigation; assisted the SIPC in litigation against brokerage firm auditors; counseled a multi-national bank regarding financing of a failed leveraged rollup of 50 consulting firms; provided expert testimony concerning the proper accounting for the acquisition and securitization of loans; testified regarding the lack of internal controls at a manufacturing company; and counseled several banks regarding commercial loan securitizations and loan servicing operations.
Mr. Grady is a commercial arbitrator for the American Arbitration Association and periodically is chairman or panel member resolving arbitration disputes. He also serves as business consultant for several community banks. As a consultant, he has developed strategic plans integrated with financial budgets and department accountability, revamped board and management reports, developed cost accounting systems and established an enterprise risk management system.
Certifications & Education
Certified Public Accountant, Illinois (1967)
Bachelor of Science of Commerce, Marquette University, Majoring in Accounting (1961)
Affiliations
Member, American Institute of Certified Public Accountants (1967)
Member, Illinois CPA Society (1967)
Member, Commercial Division of the American Arbitration Association
Member of the Board of Directors of Liberty Bank