Stephen P. Lucado
Phone: 312.560.5639 Email: SLucado@malekremian.com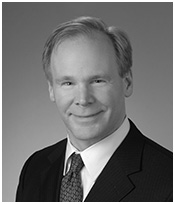 Stephen P. Lucado has over 17 years of experience in providing merger, acquisition and divestiture advisory and capital raising services as well as business reorganization and bankruptcy advisory to middle market businesses in a variety of industries including energy, healthcare, consumer products, manufacturing, retail, professional services, packaging, financial, transportation, real estate, leasing and high technology. He also has provided valuation, litigation and dispute analysis services.
Mr. Lucado currently serves as Chairman of a Marcellus focused publicly traded E&P company, where he is primarily responsible for capital markets, financing and shareholder outreach efforts. He also recently served as the interim Chief Financial Officer of an E&P company with producing properties in Texas, Colorado and Wyoming, and he led that company's restructuring of over $175 million in funded debt obligations. Prior to serving in this capacity, he was a Director at a credit focused hedge fund, where he managed investments in the oil and gas (upstream / midstream / downstream), power, healthcare and building products industries.
Prior to working at the hedge fund, he spent five years as a Director at a large publicly traded financial consulting firm, where he focused on capital raising, business reorganization and bankruptcy advisory services. He also previously worked as an investment banker and private equity investor with a middle market merchant bank. Early in his career, Mr. Lucado was an executive in the corporate finance practice at Merrill Lynch & Co. He began his career at Citicorp, N.A., where he provided corporate finance services to both Fortune 500 and middle market clients.
Mr. Lucado is a graduate of Harvard University and has an MBA from the University of Chicago Booth School of Business, where he graduated with High Honors. He has passed the Series 7 and 63 exams and has been designated a Certified Insolvency and Restructuring Advisor. He is currently the Treasurer of the Harvard Club of Chicago, where he has been a Director for over ten years. He also previously served as both President of the Board of Directors and Treasurer of Horizons for Youth, a charity organization that provides scholarship and mentoring opportunities to over 100 inner city children in Chicago.
Mr. Lucado has worked with the principals of MalekRemian for over ten years, and is currently available for special projects.
Certifications & Education
Master of Business Administration, Booth School of Business, High Honors (2006)
Bachelor of Arts, Harvard University, History and Science (1994)
Affiliations
Chairman of the Board of Directors, Trans Energy, Inc. (OTCBB: TENG)
Treasurer of the Harvard Club of Chicago